The invention of hydrodynamic industrial products is a unique innovation in the industry. In fact, the unique features of our products have been recognised at a global level, making us the world leader.
You can find Var-Spe products in 11 different European countries and 8 countries in the rest of the world.
Discover our international distribution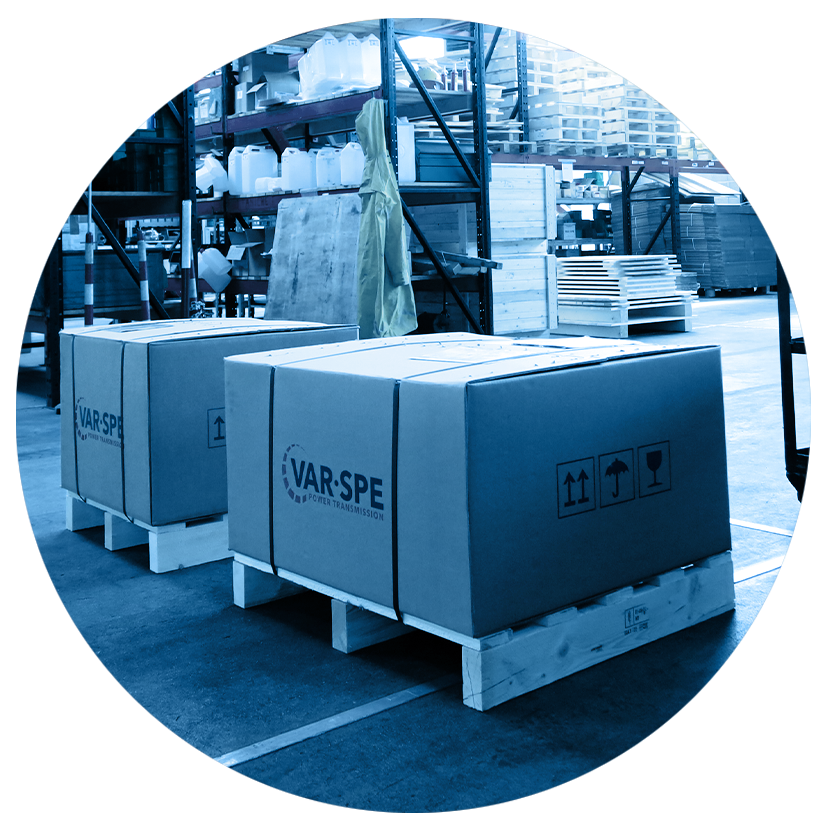 Belgium
Esco Drives
Culliganlaan 3
B-1832 Machelen (Digiem)
Belgique
Tel.0032-2-715.6560
Fax 0032-2-721.2827
Mr. Hagenaers
Denmark
Regal A/S
Industrivej 4
4000 Roskilde
Denmark
Tel. (+45) 4677 7000
Fax (+45) 4675 7620
France
Esco Transmissions S.A.
Zone Industrielle
34 Rue Ferme St. Ladre
B.P. 40023
95470 Fosses
France
Tel.0033-1-343.19.595
Fax 0033-1-343.19.599
Mr Franck Benoit
f.benoit@esco-transmissions.fr
LEMOINE Roulements et Motorisations
6 rue du Manoir de Servigné – BP 22071
35920 RENNES Cedex
tél: 02.99.59.08.40 / fax: 02.99.59.99.57
contact@lemoine35.fr
Germany
Esco Antriebstechnik Gmbh
PO Box 17 41 D-53827 Troisdorf
Germany
Tel.+49 (0) 2241 4807 41
Fax 0049-2241-480710
Mr. Jos Adegeest
j.adegeest@esco-antriebstechnik.de
Gemoteg Gmbh
Walkenmuhleweg 49
32379 Hechingen
Germany
Tel.0049-747-193.01.030
Fax 0049-747-193.01.059
Mr Stefan Eggenweiler
Mr. Manfred Gindele
s.eggenweiler@gemoteg.de
m.gindele@gemoteg.de
UK
APT Powerdrive
Amir House
Maxted Road
Hemel Hempstead, Herts HP2 7DX
United Kingdom
Tel.0044-1442-212.671
Fax 0044-1442-246.640
Contact Mr Saeed Khodadoost
saeed@aptpowerdrive.co.uk
Mashward Power Trasmissions Ltd
Unit 9
Warwick House Business Park
Southam, Warwickshire CV47 2PT
United Kingdom
Tel.0044-1926-815.480
Fax 0044-1926-817.116
Contact Mr Thomas Marshall
tom@marshward.com
Norway
Brammer
Nordre Brurås 18
N-5131 NYBORG
Norway
Tel.+47 55.39.10.45
+47 911.67.501
Mr. John Gronning
John.Gronning@brammer.biz
www.brammer.no
TP Nordic AS
Storbotn 110, 5106 ¢VRE ERVIK
Norway
Po. Box 27 ¢VRE ERVIK, 5876 BERGEN
Norway
Tel. +47 55 70 70 18
M. +47 469 339 49
Mr. Håkon Dyrdal
hakon.dyrdal@tpnordic.no
www.tpnordic.com
Holland
Spain
Portugal
Romania
Switzerland
Australia
Techtop Australia Pty Ltd
Melbourne (Head Office)
33-35 Gaine Rd
Dandenong, VIC 3175
Australia
Tel: +61 3 9753 2222
Mob: +61 428 087 824
Fax: +61 3 8692 6670
www.techtop.com.au
sales@techtop.com.au
Mr. Brendan Prestt
brendan.prestt@techtop.com.au
Adelaide
Unit 6/1C Oldsmobile Terrace
Dudley Park SA 5008
Australia
Tel. +61 (0) 8 8829 3088
sasales@techtop.com.au
Brisbane
3/47 Learoyd Road
Acacia Ridge QLD 4110
Australia
Tel. +61 (0) 7 3106 5111
Fax +61 (0) 7 3505 5394
qldsales@techtop.com.au
Perth
1 Kalgan Road
Welshpool WA 6106
Australia
Tel. +61 (0) 8 9908 9111
wasales@techtop.com.au
Sydney
2/7 Kelham Place
Glendenning NSW 2761
Australia
Tel. +61 (0) 2 9114 6955
Fax +61 (0) 2 8072 3389
nswsales@techtop.com.au
Chains & Accessories
Royce Cross Group
3 Cord St, Dudley Park
South Australia
Ph: 001164 8 82694000
Mr. Phillip Cross
Email: sales@roycecrossgroup.com
Tasmania
MGP (TAS) Pty Ltd
www.motorgearbox.com.au
sales@mgptas.com.au
Tel. 03 6441 5236
Fax 03 6441 5237
Mob. 0405 943 831 James Wescombe
Mob. 0447 129 444 Kallan Muir
Iran
SHABFOROOGH Comp. LTD
19 Seraye Sedghinejad
Ave Saadi, Teheran
Iran
Tel.+98-21-3311.7899
Fax +98-21-3393.4939
Mrs. Sussan Khodadoost
sussan@shabforoogh.com
Korea
STM Korea
#104-216, 41, Yutongdanji 1-ro
Gangseo-gu, Busan, 46721 Rep. of KOREA
Phone : +82-01-8536-6469
Fax : +82-51-955-2250
Mr. YC Ahn
New Zeland
South Africa
Taiwan
Turkey
USA